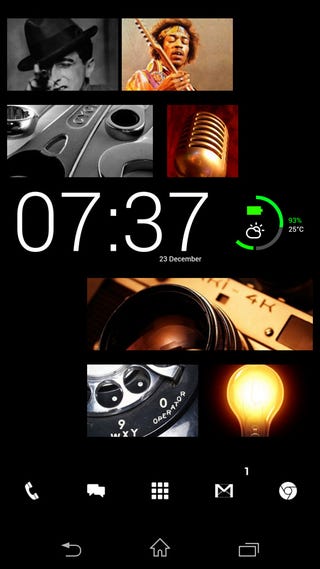 I'm all for the Windows Phone tiled aesthetic, and the fact that your most-used apps are present as decorative squares (rather than icons) in your homescreen, except I'm not such a fan of the flat designs. This homescreen mod on my Xperia Z replaces the tiles with downloaded picture, with an all-black background, no notification bar, and white icons to make everything pop. Swiping to the left and right opens functional widget pages: the left contains my to-do list and folders of apps, while right contains a music player, my calendar, and toggles.
Left screen:
Right screen:
Here's how I made it:
Launcher: Solo Launcher. This launcher is just like Nova Launcher, but with most of the features free...maybe that's why it's sometimes disappears from the Play Store from time to time. It has free notification badges for SMS, missed calls, and Gmail, so I opted to turn off the notification bar. (A double tap on the screen brings it back.)
Tiles: Real Widget Lite. Theoretically, you can get this look with Desktop Visualizer, but I found that Real Widget Lite works just fine. Each row is a resized widget, with backgrounds downloaded from the web. Each "tile" opens my most-used apps: Gangster opens FB, Jimi Hendrix opens Contacts, Wrenches opens Settings, mic opens PCM Recorder, Camera opens camera, Phone opens Whatsapp, Lightbulb opens Google Play Newsstand. Yes, the pictures don't make sense.
Clock, Cell Signal, WiFi, Battery, Weather Widget: Zooper Widget. This was formed using just the stock elements without downloading any themes from Zooper Widget Pro, and it's fairly easy to make something similar. The green circles represent my cell network and WiFi signals.
Icons and Folders: Tiny White Icon Pack. I love you Samantha Conner.
To-Do Widget: Any.Do. I converted it to the dark theme to match.
Music Player: Rocket Music Player. Their standard widget matches the dark theme, and displays album art.
Toggles: Power Toggles. Converted to white and blue for contrast.
Calendar: Business Calendar. An excellent calendar. If you don't care for functionality, the dark-themed widgets of Cal, the ones from the Any.Do guys, look even better than this one.